Phytosome®s improved bioavailability
The Phytosome® formulation increases the absorption of active ingredients when topically applied on the skin, and improves systemic bioavailability when administered orally. In water medium, a Phytosome® will assume a micellar shape, forming a liposome-like structure.

Bioavailability of flavonoids, both in aglyconic or glycosidic form, is reported to be low and erratic due to limited absorption, elevated presistemic metabolism and rapid elimination. Flavonoid aglycons and glycosides, once ingested, reach the small intestine intact and then are metabolized to the methylated, glucuronidated or sulfated metabolites. Flavonoids or flavonoids metabolites that reach the colon are usually further metabolized by local enzymes and then absorbed. This figure is at the base of a non-linear pharmacokinetics and has to be taken into account when evaluating the relationship among in vitro biochemical effects, oral dosages and plasma levels.

Here below we are reporting some examples of increased bioavailability with different phytochemicals and different administration routes.
Silymarin is poorly soluble in water and in vivo studies as well on humans have shown that only nanogram per milliliter concentrations in plasma following oral administration of silymarin extracts can be found. Pharmacokinetic studies in rats, dogs and in humans subjects have shown instead substantial increases in bioavailability by oral administration of Silipide (IdB 1016) or Siliphos®, the pharmacokinetically equivalent of Silipide®.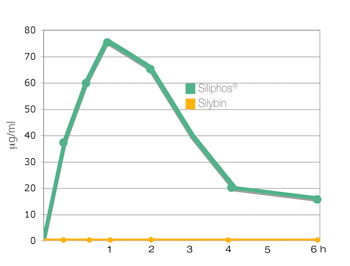 In particular as demonstrated by pharmacokinetic studies in comparison with free silybin and silymarin, Siliphos® represents the most absorbable form of silybin known until now. In rats, after oral administration of 200 mg/kg of silybin, the plasma levels of this drug and its conjugated metabolites were below the analytical detection limit, while, after oral administration of Siliphos® (200 mg/kg as silybin) the plasma levels of silybin (free and total) were easily measurable (Chart 4.).

Furthermore, after oral administration of Siliphos®, the biliary elimination of silybin was not complete at 24 h and accounted for about 3.7% of the administered dose.
The compound was rapidly excreted in urine where at 72 h the amount recovered accounted for about 3.3%. After administration of unformulated silybin, biliary and urinary elimination accounted for only 0.001% and 0.032%, respectively.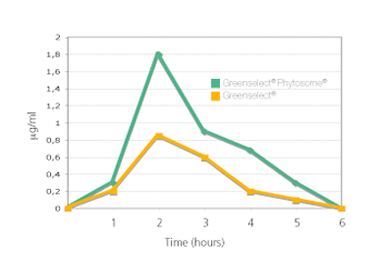 In a comparative study in humans, analyzing the absorption of curcumin Phytosome® (Meriva®) and curcumin the overall curcuminoid absorption was about 29-fold higher for Meriva® compared to the unformulated curcuminoid mixture, while a 50 to 60 fold higher absorption has been shown for demethoxycurcumin (DMC) and bisdemethoxycurcumin (BDMC). Furthermore also the absorption was faster with Meriva® the with the unformulated curcumin.
The pharmacokinetic profile of Ginkgoselect® Phytosome® has been defined in experimental animals and in human volunteers.
Its bioavailability has been compared to Ginkgo biloba extract (GBE). Chart 1 reports human plasma concentrations of ginkgolide A which, according to AUC, shows a 3.5 folds higher absorption of the Ginkgoselect® Phytosome®. Fifteen healthy volunteers were randomly divided into two groups and administered respectively 160 mg of free formulation of GBE (corresponding to 9.6 mg of terpene lactone) and 160 mg of Ginkgoselect® Phytosome® (corresponding to the same amount of terpene lactone).

The subjects switched formulations after a week of wash out. Blood samples were collected at 30, 60, 120, 180, 240, 300 and 400 min after ingestion. Terpene lactone detection was performed by means of liquid cromatography/atmospheric pressure chemical ionization mass spectrometry (LC/APCI-ITMS). Ginkgolides A, B and bilobalide were absorbed to a higher extent (about threefold) after administration of Ginkgoselect® Phytosome®.
GBE and Ginkgoselect® Phytosome® demonstrated their effective antioxidant capacity by increasing total plasma and brain antioxidant capacity in vivo, according to the experimental protocol described below, as well. Ginkgoselect® Phytosome®, though, induced a higher antioxidant protection compared to GBE.
GBE and Ginkgoselect® Phytosome® have been administered to a group of 5 rats respectively (plus a control group) at 300 mg/kg/day (and 300 mg/kg/day as GBE for the formulated form). The total plasma antioxidant capacity and the brain antioxidant capacity have been measured by FRAP method.
Ginkgoselect® Phytosome® total plasma antioxidant capacity in rats resulted 27.9% higher compared to GBE (Chart 3).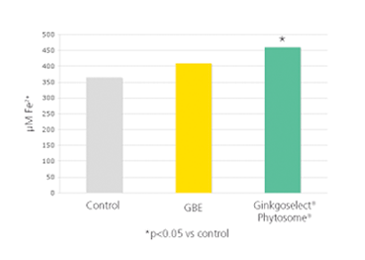 Finally as an example, an activity comparison between the Phytosome® and non Phytosome® form by topical application is here reported as well. The anti-inflammatory and anti-oedemigenous effects of the 18ß-Glycyrrhetinic Acid Phytosome® were assessed in the experimental model of Croton oil-induced oedema reduction.
At the same dose (0.16 μM), the action of the 18ß-Glycyrrhetinic Acid Phytosome® was found to be greater and to last longer than that of 18ß-glycyrrhetic acid alone.
This means that the Phytosome® formulation not only increases the active ingredient tolerability and absorption, but also improves its efficacy.